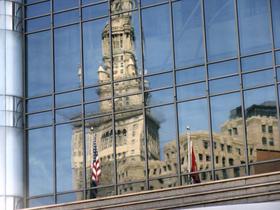 When success is your only option, you need dedicated support from a contractor that understands the challenges you face on a daily basis. That's why you can trust Cardinal Asphalt Company to provide you with reliable service and exceptional workmanship to help make it easy for municipalities to get the job done. Cardinal Asphalt Company knows that government accounts do business differently than private sector companies, and we will tailor our services and solutions to meet those requirements for your asphalt maintenance, asphalt paving, concrete and excavating projects.
How to select a contractor for your municipality project?
Do you know what to look for in a reliable, professional and experienced contractor for your next municipal project? To avoid delays, over-budgets and the potential for subpar work, Cardinal Asphalt Company has put together a list of qualities to help guide you in selecting your preferred partner for your asphalt maintenance, asphalt paving, concrete or excavating needs.
Getting Bids from Multiple Contractors
The Better Business Bureau (BBB) recommends getting at least three bids from your potential asphalt, concrete or excavating partners. Once you have those bids, compare them. Which contractor is the most economically priced, which is the most expensive and which provides the best customer service and quality of work? You also need to understand exactly what the bids and quotes cover to make you're your expectations are met when the project is complete. The project cost associated with a bid shouldn't be the only deciding factor. The least expensive bid could be cutting corners and the most expensive may be overcharging. Comparing each quote and the services included is extremely important to align expectations of both the governing municipality as well as the contractor.
Licensed, Bonded and Insured
Any contractor you work with for a municipality project should be licensed with the appropriate authority, bonded and insured. Legitimate asphalt, concrete or excavating contractors will have valid business and contractor licenses, and your preferred contractors should also carry workers compensation insurance, general liability insurance and all their commercial vehicles and equipment will be properly insured.
Similar Projects Experience
Ask your potential municipal contractors if they have experience performing municipality jobs of similar size with similar project scopes. Knowing your contactors range of experience can give you comfort in knowing that they are familiar with your needs and what it takes to be successful with a particular asphalt maintenance, asphalt paving, concrete or excavating project.
Equipment and Materials
One important question to ask a potential asphalt, concrete or excavating contractor is whether or not they have their own equipment and materials or will the company have to purchase material and rent equipment. A contractor that owns his own machinery and either manufacturers his own material or has preferred manufacturing partners is better able to control the costs of the project and ensure the quality of the material.
Industry Certifications and Memberships
Another verification of a municipal contractor is whether or not they are a member of the industry organizations in your area, such as being BBB accredited. While businesses do not have to have a BBB accreditation seal to be rated by the BBB, it is always a good practice to be a member of this national organization. Being BBB accredited says that the company will perform up to certain standards and resolve conflicts and disputes reasonably and within a certain timeframe. BBB accredited businesses must also agree to certain advertising standards and best practices.
Additional memberships you should look for are local asphalt, paving and excavating associations. These organizations keep contractors up-to-date with the latest processes, innovations, technologies and laws in each industry and help ensure that contractors utilize best practices and perform in a manner that provides the customer with high-quality products and services.