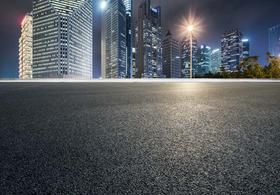 Cardinal Asphalt Company delivers a comprehensive range of commercial construction services including asphalt maintenance, asphalt paving, concrete and excavating. By focusing on three key project elements – quality, time and cost – Cardinal Asphalt Company is able to provide you with the greatest return on your investment, Cardinal Asphalt Company successfully serves the commercial market in Northeastern Ohio and surrounding communities. If you care about sending the right message to your customers, now is the time to partner with the experts at Cardinal Asphalt Company. The three key elements in delivering ROI for a parking lot project are Quality, Time and Cost.
The Cardinal Asphalt Company's team has the experience and expertise to handle any size commercial project. Whether maintaining your parking lot free from cracks and potholes or starting a new development, Cardinal Asphalt Company can help ensure your project is a success, finished on time and within budget.
The quality of work completed by commercial contractors can vary drastically. The key factors in delivering quality are having experienced staff, having the correct equipment and using the appropriate type and quantity of materials. Cardinal Asphalt Company has unparalleled experience on our commercial crews. We own and maintain our own commercial equipment that can adequately meet the requirements of our commercial customers. Our commercial customers partner with and trust Cardinal Asphalt Company to understand each project, propose economic solutions and deliver a finished product that displays expert workmanship.
Time is Money
Cardinal Asphalt Company understands how important time is to our commercial customers, and we respect that by displaying professionalism and efficiency from initial customer contact through completion of each project. Expect prompt responses from our professional staff on all inquiries, open communication on scheduling of asphalt, concrete or excavating projects.
Pricing
The cost of a commercial project is a vital factor to all of our customers. Cardinal Asphalt Company prides itself on delivering high-quality workmanship at an affordable price. Providing excellent service and project quality is the cornerstone for Cardinal Asphalt Company's ongoing growth.
"We do not cut corners. Cardinal Asphalt Company uses premium products and equipment to deliver the highest level of quality and customer experience to each of our commercial customers."
– Jim Richardson, President
Proudly serving all of Ohio and the following communities: Akron, Canton, Cuyahoga Falls, Stow, Kent, Tallmadge, Fairlawn, Norton, Hudson, and Medina.